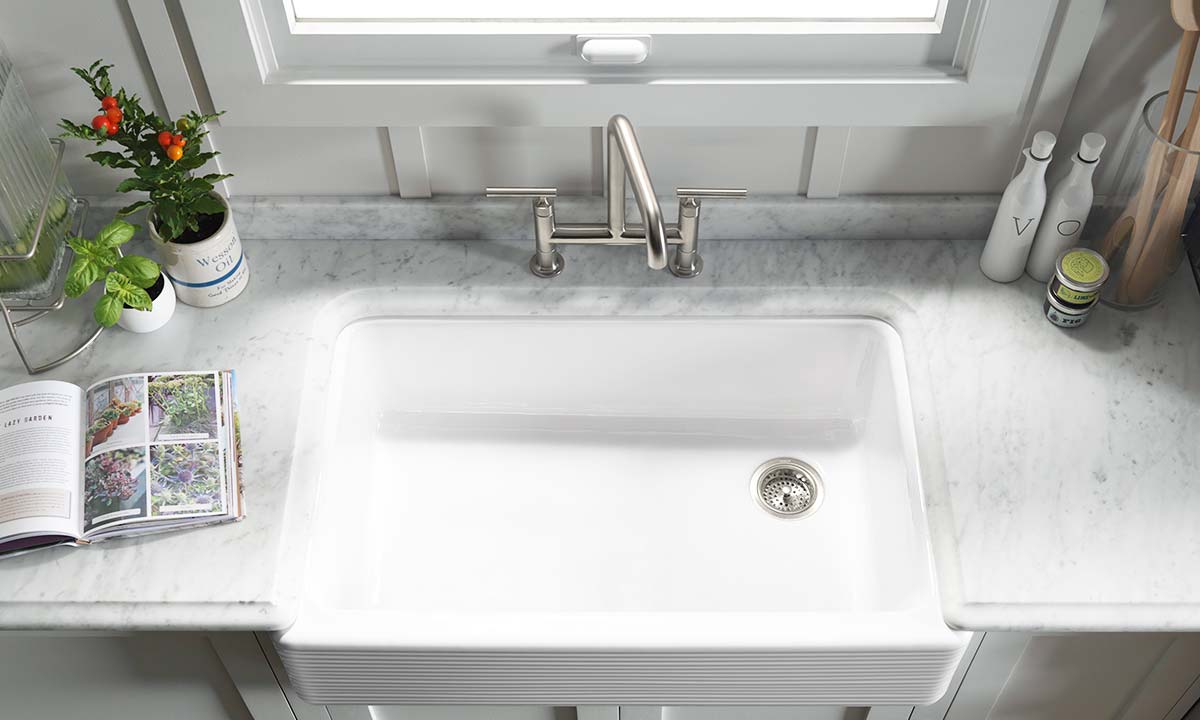 What is the most used kitchen appliance?
It gets used between 10 and 30 times each and every day, making this appliance by far the most popular item in your kitchen. In the grand scheme of things, it's also one of the least costly "big ticket" items in your kitchen, but its quality – or lack thereof – is something that you deal with day in and day out.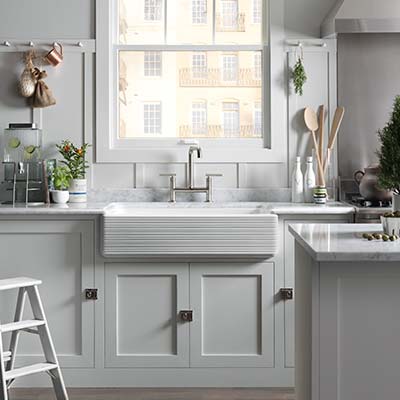 What is this essential appliance? Why, it's the kitchen sink – and by extension, the faucet that serves as an integral part of it. Just think about how often you use your sink in a typical day, for everything from meal prep and dish clean up to rinsing out recyclable containers, cleansing dirty hands and countless other mundane tasks. This level of use is why it's essential that your sink and faucet function well and stand up to daily wear and tear.
So what should you look for in a sink? Of course, you'll want to consider style and make certain that your sink is something you love, since you will be using it so often. Don't be afraid to think outside the stainless steel box and venture into unique designs, like apron sinks, farmhouse styles or something sleek and modern. Gone are the days when a sink "had" to be white to ensure your kitchen's resale value. Instead, focus on a style you love that complements the design of your kitchen and its certain to have lasting value.
Beyond style, look to quality. There's really not much of a price difference between the average big box sink and a better grade of sink, so a little splurge when it comes to price can make a huge difference in longevity. No matter which finish you select – porcelain, stainless steel, a composite material or something more unique – make certain that you're investing in a thick, durable surface that is resistant to stains, chips and dings. Remember, that hot-off-stove frying pan likely will end up in your sink at some point, as will that overflowing pasta pot and glass of red wine. Select a material that will stand up to the rigors of daily use in your house – whatever that may mean for you.
Finally, don't neglect function. Think about how you use your kitchen sink. Do you often wash delicate dishes by hand and need the convenience of double basins? Do you do a lot of prep work and relish the idea of a shallow third basin that's designed to accommodate accessories such as cutting boards? In contrast, is one graciously sized basin that allows you to fill large pots and wash large serving platters, pots and pans more important to you? Choose the style that's right for the way you cook.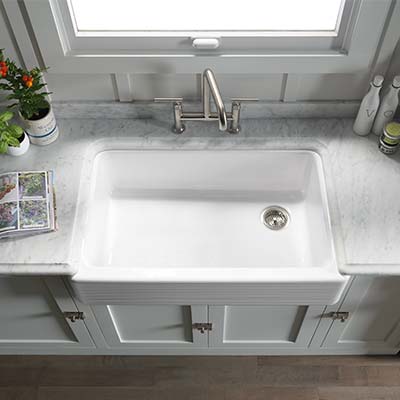 Then consider those same characteristics when looking at faucets. You'll want to select the best quality you can afford, since this is an item that sees such heavy use. Skimping on this most heavily used faucet in your home is certain to lead to costly plumbing repair calls down the road.
Then, carefully consider finishes that not only blend with your décor, but also hide fingerprints, require less maintenance and will stand the test of time. Look for faucets that combine style with substance. A single-handled waterfall faucet may look beautiful, but a spray is much more convenient when it comes to washing vegetables. To that end, most homeowners are opting for high arc styles with pull down spray features rather than a separate spray unit.
Finally, consider a functional splurge here as well. Touchless faucets are a convenience feature that makes sense in many family kitchens. Particularly if you cook a lot or have young children, these fixtures reduce the risk of cross contamination. (Just think about having to turning on the faucet handle after you cut up raw chicken and then forgetting to wipe it down before your four year old, who puts his hands directly into his mouth, gets to it.) These faucets also are great options for aging in place, since users don't have to negotiate handles that can be tight or difficult to reach.
No matter what your style or which functionality you desire, invest in a quality sink and faucet. Your kitchen – and your plumbing budget – will thank you for it.