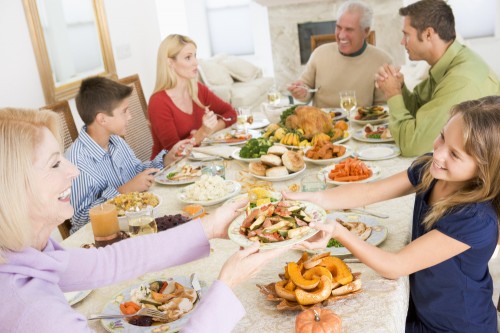 If you're like us, you love entertaining family and friends during the holidays. Yet family gatherings can sometimes get a little too close for comfort if your home isn't conducive to having guests. Here are a few of our favorite projects that can help make coming home for the holidays a more pleasant experience for everyone.
Finishing an attic, upstairs bonus room or a room over the garage offers an incredible value for your home improvement dollars. That's because the rough framing for the floor, walls, ceiling, and sometimes, utilities, are already partially in place. An open space provides ample room for entertaining and hobbies, while adding a bathroom and a closet creates a private guest suite.
Any improvements that you can make in the kitchen or eating areas are another surefire winner. Increasing the size of your cooktop, range or oven (or adding a double oven) can ease meal preparation during these busy times.
Adding useable outdoor space. Let's face it; Thanksgiving isn't really that cold in the Carolinas. It's still temperate enough for parents to gather on a deck or patio while the kids are playing outside. (Consider adding a propane or quartz heater to make this more of a year-round room.) For one local family, we removed a small, rickety deck, and replaced it with a graciously sized screened-in porch and then connected the deck to a huge fireplace and sitting area. Even at Christmas, this family now finds themselves gathering around the campfire and roasting marshmallows.
Opening up a back wall to ease access to the deck and letting in more natural light makes a home live larger. To that end, any lighting improvements work on several levels. Many traditional homes were designed with a single, central light in each room. Adding recessed cans and task lighting can ease jobs like food preparation while improving the ambiance of your home.
While it may not directly ease entertaining, creating organized storage areas can make your life much simpler around the holidays. One of the easiest things you can do is go through your kitchen and simply store the items you don't use that often, freeing up valuable real estate. Installing pullout shelves in cabinets makes getting to what you do use easier. Upgrading a pantry with permanent shelving designed for the items you store and lighting so you can see what you have makes a huge difference. Organizing the spaces where you keep holiday decorations can prevent you from forgetting what you have. (And who wants to make that midnight run to the store for Christmas lights only to discover 5 brand new boxes in the garage on January 1st?)  If you're updating your kitchen cabinets for the holidays, consider re-using the old ones in the garage. Upper cabinets are an excellent place to store seasonal items like casserole dishes and extra china. And those odd spaces inside your home might make great "found" storage space. We opened up a wall to an area under the staircase in one family home, sheetrocking the walls inside and adding shelving, lighting and an access door to create a secondary pantry.