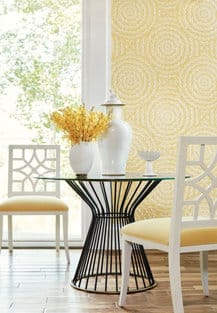 If your walls could talk – They'd say "Wallpaper Me!"
Wallpaper has come a long way from the sticky (and smelly) messes of the past.
One of the easiest ways to give the impression that you've made a dramatic Charlotte home renovation does not even involve a hammer or nails – but it does involve some glue and some skill. What's this shortcut to an amazing transformation? It's wallpaper – and the latest offerings have come a long way from the sticky (and smelly) messes of the past.
Folks are gravitating to wallpaper because it's a relatively easy and comparatively inexpensive way to add texture and pattern to walls. New removeable offerings stay where you put them, but are far easier to remove than the papers of the past when it's time for a change. New patterns in updated florals, geometrics and metallics are making outdated perceptions of wallcoverings obsolete. (Since wallpaper is considered a luxury product in many circles, it's always best to have a professional install it properly and make certain that everything aligns perfectly the first time.)
What's new pattern-wise in wallcoverings? Manufacturers like Thibaut are coming up with creative ways to add visual pop to their designs. For example, they took the floral trend that is showing up everywhere and added texture by screen printing flowers on top of intrinsic strings for added dimension in their Aster wallpaper shown here.
Thibaut's Surface Resource collection of wallcoverings, of which Aster is one offering, takes wallpaper to the next level with modern, luxe designs printed over inventive materials. Their Inyo Wood, for example, is made of micro-thin tungbark wood veneer on non-woven paper. Nira is printed on a metallic foil, while Amato has a raised surface ink that adds texture. In case you need even more bling, you can turn to Martello, a striking geometric pattern of graphic ogee shapes embellished with tiny glass beads that sparkle.
Thibaut isn't the only one taking wallcovering to an elevated textural level. Three-dimensional wall panels add an entirely new textural feel to your vertical surfaces. While these panels come in virtually every material from concrete to felt, companies like CSI Wall Panels offer variations made of Gypsum. This material allows for a depth of texture without excessive weight – making it the ideal combination for your walls. With everything from geometric patterns to the aptly named post it and even a tufted look, there's certain to be a pattern that fits your style.
And that's really the advantage of wallcoverings – they transform your space and give you a room unlike any other on your block. While they do cost more than a quality, professional paint job, the difference is generally smaller than most other interior transformations.