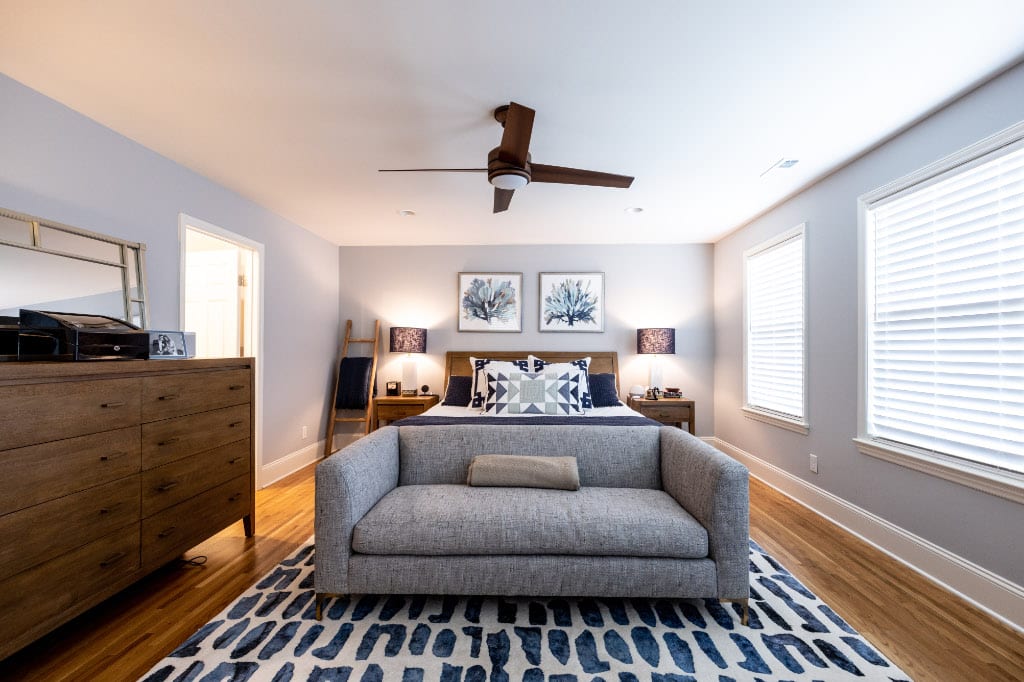 Creating space for a primary bedroom retreat
Sometimes it takes a licensed, professional remodeler to find and create space for a primary bedroom retreat.
When people think about Charlotte home remodeling projects, it's generally kitchens and bathrooms that steal the show. Perhaps that's because we've been conditioned to think about these spaces in terms of resale value, and it's also not surprising when you consider how much family activity centers around the kitchen. However, there's one room in which homeowners spend a third of their time every day that deserves some attention– their primary bedroom.
Unfortunately, many older Charlotte homes lack the spacious, open and airy primary bedroom suites found in newer floor plans. They often have cramped closets (or in some cases, no closets) and no direct access to the primary bathroom, which is often similarly out of date.
Some homeowners might be reluctant to tackle a primary bedroom remodel, because they simply can't envision what difference it would really make – or where they could possibly find the space to expand. That's where working with a licensed, professional remodeler with experience in these types of projects comes into play.
We work with each homeowner to find or create space for a primary bedroom suite that suits their needs. Depending on each home's idiosyncrasies, we've come up with some very creative solutions over the years. Sometimes we create space by combining two bedrooms into one large suite, by "borrowing" space from adjoining rooms, by relocating the primary bedroom to an area of the home that will allow us to be more creative, or by building a new addition.
Borrowing space means finding an unused or underutilized space in an adjoining area that we can tap into to expand the current suite. For example, a large closet in an adjoining bedroom, an adjacent laundry room, or even unfinished attic space can be tapped to expand the primary bedroom and the functions of that space can be moved elsewhere in home. We recently transformed unused attic space into a gorgeous walk-in closet filled with natural light for one family, who then temporarily borrowed part of that space as a home office at the height of the pandemic.
For families who prefer a second-story primary bedroom, flooring over a two-story living room can create a graciously sized area on the second floor that can be designed in any way you like. While not an insignificant cost since creating a space like this involves structural modifications to the home, HVAC and utility expansion, and can impact the flow of adjoining spaces, this is still a less costly and time-intensive solution than creating an addition from scratch. In some cases, however, a Charlotte home addition is simply the best option, because it allows you to design and create exactly the space you need and want.
No matter which option you choose, investing in your primary bedroom can make a tremendous difference in the quality of your life. Some homeowners choose to future-proof these spaces, designing them with wide entryways, zero-entry thresholds on showers and doors, and accessible features throughout that make the room easy to live in now, and ideal for aging in place in the future. Others simply want a large, open space with room for a reading nook or desk that feels like an escape from the outside world. Some homeowners just need extra closet space to get organized. Still others want a sound-proofed sanctuary that literally allows them to lock out the outside world and escape from the sounds of a busy family. Regardless of what you are looking for, investing in a primary bedroom remodel can make all the difference in a space you use each and every day.