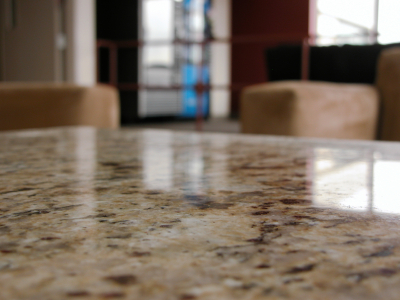 Over the past decade or so, granite has emerged as a solid leader in kitchen and bathroom surfaces. Yet many people still have misconceptions about the material. Here are some common myths and a look at the hard facts about this natural product.
Granite is Expensive.Actually, granite has become one of the more cost-effective options among solid surfaces. Thanks to its popularity, supply has increased, bringing the cost down by $10 to $15 dollars a square foot over the past several years. Some of the newer, fabricated materials are pricier.
Granite is Difficult to Maintain. Some homeowners worry about spotting or discoloration, but those fears aren't well grounded. According to the Marble Institute of America, granite just requires warm water, mild dishwashing liquid and a soft cloth to maintain. If you can use a spray bottle like one you'd use to apply glass cleaner, you can apply the latest generation of sealants.
Granite Locks You into a Certain Style. There are myriad colors, shades and tones in even a relatively plain piece of granite. As opposed to a solid-color surface material, these variations give you unprecedented design flexibility – i.e., when you tire of a wall or accessory color, simply pick a different shade in the same stone and redesign from there.
Granite Isn't Green. Granite is a natural material, so it's difficult to get closer to nature.
Granite Isn't Durable. Granite has withstood the test of time. There's a reason we say "as hard as a rock." It is heat-resistant and won't crack under the pressure of normal wear and tear.
Granite Isn't a Solid Investment. The kitchen is the area where homeowners are likely to recoup the most money from renovations – nearly 85% according to CNNMoney.com. And when it comes to the changes homeowners are looking for in kitchen renovations, granite is definitely a material of choice. It's expected in high-end homes and is becoming an assumption in moderately priced residences as well. In this challenging market, you want to give your home every edge when it comes to resale, and granite in the kitchen has become an indicator of a quality project in what many buyers view as the most important room in a house.