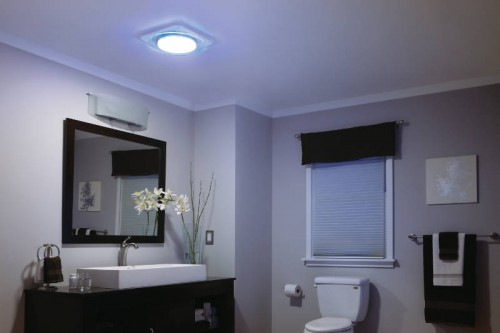 So much attention has been devoted to Universal Design as of late. This concept, that homes should be accessible to everyone regardless of their level of mobility, ensures that people will be able to remain in their residences longer as they age and eases access to those who are challenged with disabilities or even temporary injuries.
While many designers and homeowners focus on the large issues, like how to best tackle staircases, where to include zero-entry thresholds, and the proper placements and setup of kitchen appliances, one of the simplest changes that you can make to make your home more accessible is often the most overlooked – providing adequate lighting. Perhaps there is no place where this is more of an issue than in bathrooms.
Just think about getting up in the middle of the night. You are already tired, groggy and perhaps not paying the most attention to where you are headed and what obstacles may be in your way. Compound those feelings with a physical challenge, and you have the makings of an accident, which is what Universal Design is designed to prevent.
There are several ways that lighting and increased visibility can reduce the chances of an accident. One of our favorite products is Nu-Tone's LunAura Lighting and Ventilation Collection, which takes the concept of a nightlight and kicks it up a notch. It has a sleek, transitional design that is at home in many settings, featuring a green-tinted plate below the fan. When the LED nightlight is activated, the plate turns blue with a vibrant, glowing edge. The soft light allows you to see clearly and since it doesn't have a harsh glare, you won't hesitate to turn it on or to leave it on for fear of disturbing a sleeping spouse.
Another option is installing motion sensors on bathroom lights so they automatically turn on when someone enters the room. Make certain that you have proper task lighting near vital areas like medicine cabinets to avoid any confusion when it comes to reading prescription labels. Finally, opt for fixtures, counters, floors and wall colors that have a good deal of contrast to improve visibility. If your counters are several shades darker than your sink, there won't be any question about where one ends and the other begins. Likewise, if the lights go out, users will be able to see where the shower stops and the adjoining wall begins. Remember that shiny or contrasting grab bars will be more visible – and thus more likely to be used when needed – than those that blend into the shower or bathtub wall.
Keep these simple tips in mind and you'll make your bathrooms more accessible to everyone from aging guests to visiting grandchildren.