Note to readers: This is one of our favorite and most talked about blogs. It originally ran a year ago, but the information is so timely and so practical that we thought it was worth dusting the pollen off and bringing it back.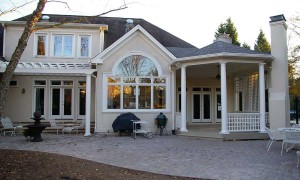 Ah, spring. That time of year when you eagerly venture outside to reclaim your backyard, scrape 10 inches of pollen off your lawn chair, and all too often, realize that the seeds of minor annoyances planted last fall have started to sprout. Take heart – a simple inspection of your home and yard can prevent small issues from blossoming into full-blown problems while still leaving you time to relax. Here are some things to look for and quick fixes that can have a major impact:
Caulk and seal around windows and doors to boost energy efficiency. This is a simple, cost-effective way to go green by conserving energy while reducing your AC bills.
Look for settling cracks in brick veneer and stucco that may indicate the beginnings of a foundation issue.
Check your crawl space for standing water and/or your foundation for water damage.
Repair rotted wood and trim around windows, doors and dormers. Prime and paint any areas where paint has peeled away.
Check for water stains on ceilings or in the attic, which could indicate shingle or flashing problems.
Inspect for sagging or damaged gutter components before the next heavy downpour.
Have an HVAC specialist check your HVAC Freon and coils for dirt and debris. This year, Charlotte has had triple the amount of pollen we normally get. Changing air filters will help your HVAC work more efficiently and extend its life. (Follow manufacturer's recommendations on changing filters monthly, every 3 months, quarterly, or annually.)
Change the vacuum drive belt on your central or regular vacuum. Changing this belt annually preserves the vacuum motor and ensures that it's working efficiently. Visit a trusted retailer like Himebaugh's for more information.
Have your pool water tested by a reputable local swimming pool supply store.  As you reopen your pool, you want to be sure that the chemicals are properly balanced and that your pump and filtration systems are working properly.
Check lawn and garden irrigation heads now to make sure they're functioning properly and recalibrate the zones seasonally to match each area's changing water needs.
Don't want to handle minor repairs yourself? Then talk to us. We offer a free exterior inspection to assist in identifying potential issues and are always willing to help with projects like roof leaks and replacement; door and window repair and replacement; fascia, soffit and siding rot or water damaged repairs or replacement; trim and siding repairs; HVAC System issues, including cleaning and/or upgrading systems; flooring replacement – carpeting, wood and tile; technology upgrades; and more.