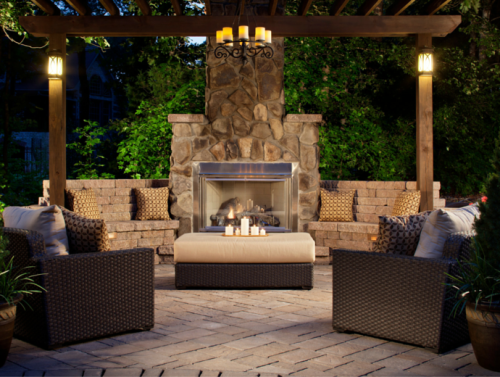 As the weather gets warmer, Charlotteans naturally seem to gravitate toward the outdoors. As we dust off the remnants of winter and look around, we're seeing much that we can improve right in our own backyards. In fact, a recent survey of homeowners by LightStream, an online lending division of SunTrust Banks, Inc., found that more than half of respondents are planning home improvement projects this year. By far, the most popular of those planned projects were centered outdoors – with 43 percent planning to invest in improvements that include decks, patios, or landscape remodels. Here are a few of the changes we're seeing Charlotte homeowners make:
Think outside the box. When it comes to decks, the boring rectangle is out. Curves, unexpected angles and decks designed to take full advantage of views are in.
Natural approach. With so much focus on organic and natural foods, it's not surprising that vegetable and herb gardens are making a comeback. But you don't need a huge backyard to garden, even a small patio or deck can accommodate a container or pallet garden.
Growing trend. While the average size of homes is actually shrinking, the opposite is true of outdoor living areas, which are gaining ground to become larger year after year.
Bigger and better. Those outdoor living areas are becoming more elaborate as well, with outdoor cooking areas, fire pits, hot tubs, and seating areas becoming more of the norm.
Back to basics. As these spaces become more elaborate, the materials we use are going natural, with stone taking center stage for outdoor construction projects.
Low maintenance. At the same time, homeowners want to minimize upkeep and maximize enjoyment, so they are supplementing natural surfaces with low-maintenance materials such as composite decking.
Going green. That's true for plant materials as well. Consumers are buying more plants than ever–particularly millennials–but they are looking for hardier choices that are adapted to our climate.
Light up the night. While most people use outdoor living spaces during the day, don't neglect night use. Remember to include light fixtures for safety and to take your cookouts and gatherings from day into night.
Water features. Summer is all about enjoying sun and surf. While larger spaces and budgets can accommodate pools and hot tubs, even small spaces can include fountains or fish ponds to bring the sounds and serenity of water into your landscape.
Fun for all. Finally–and more importantly–think about what your family enjoys doing when you design an outdoor living space. Whether it's a kiddie pool and sandbox or a bar for adults, first determine what you desire in a space, and then consult an expert to bring your space to life.