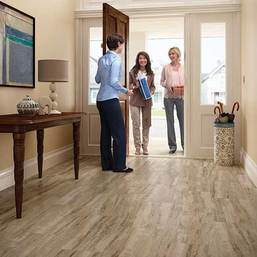 We thoroughly enjoyed exploring the four beautifully crafted homes decked out by talented designers during the 2015 HomeArama at Cheval. Our main takeaway from the event is some sound advice for our clients: You don't have to purchase a new house to enjoy cutting-edge trends and inspired design ideas. In fact, if you have a home with good bones in a neighborhood you love, why not remodel? Here are some of the trends we saw – and some advice on what notto do – that you can easily incorporate into your remodeling or renovation project.
Ditch the living room. All of this year's HomeArama houses favored large, open gathering spaces rather than separate, closed-in living and family rooms. To get the free-flowing look, consider removing walls that separate interior spaces.
Look up. Instead of a plain ceiling, have your fifth wall make a statement by adding style and texture. We saw grass cloth used in coffered ceilings, wood trim inside a barrel vaulted ceiling, and unique treatments in even the smallest – and usually neglected – spaces.
Introduce the unexpected. One of the front porches featured a travertine floor. Typically used in bathrooms and around swimming pools, the material was a pleasant surprise that was cool to the touch and added an unexpected note of softness to the exterior. Anytime you use a traditional material in an innovative way, it sparks interest. A prime example was a series of closets with mirrored doors that lined an entire master bath hallway. The mirrors visually opened up a tight space and added a touch of glamour.
Boost touchability with texture. Texture was everywhere this year, from new leathered and honed finishes on counter surface materials to grass cloth on walls and deeply textured tile in bathrooms. Texture creates both visual and tactile interest and is a simple way to get an upscale look without necessarily paying a high-end price tag.
Create a pleasing mix. Mixing of materials – particularly combinations of tile and stone – were predominant. Most kitchens featured multiple counter surfaces that were either varied materials or used different finishes of the same material. In bathrooms, widely divergent tiles were mixed in unique combinations. An easy way to mix materials is to opt for tiles that look like wood – they bring the beauty of wood into places where wood would not be sustainable, such as high-moisture areas like showers and bathroom walls.
Don't forget the pets. Pets are a part of your family, so don't neglect to build in spaces just for them that also keep their necessities out of the way. Some homes featured extra-large laundry or utility rooms with built-in doggie showers. There were also small rooms off rear entrances and carved out of typically wasted space beneath staircases that were ideal for placing dog or cat beds, food bowls, and even litter boxes. One garage featured an open shower area that would be perfect for cleaning up everything from muddy sports equipment to messy dogs.
The great outdoors aren't always great. This HomeArama featured some amazing outdoor living areas – even some with retractable screens. We always caution folks to think carefully before they build extensive screened-in or open porches. For just a small additional investment, you can convert these areas into sunrooms that offer true protection from the elements, HVAC systems for comfort, and keep pollen from becoming a problem.
Cover up! For the most part, the grills in these outdoor living areas were out in the open. Whenever possible, we suggest you put your grill under cover of some sort. It keeps the chef and your food out of the direct sun or the rain. It also preserves the finish and life of your grill.
The real beauty of HomeArama has always been the inspiration these homes provide. Many thanks to the Charlotte HBA and the builders, architects, designers, vendors, trades, suppliers and volunteers who brought this event to life.