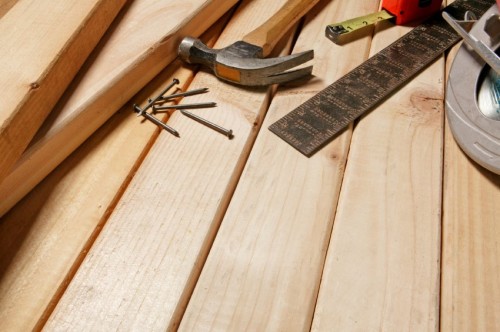 We've all heard those horror stories about home improvement projects gone awry. Whether you're watching shows like Holmes on Homes or listening to your neighbor's story about their second cousin's latest mishap, it's an unfortunate truth that unscrupulous contractors who do shoddy work are out there.  Unfortunately, over the years, we've heard from homeowners who have fallen victim to their schemes – most through absolutely no fault of their own.  There are however, a few things that experts say homeowners do that make them more vulnerable to predators.  Here are a few of the more frequently mentioned ones to avoid:
Make price the deciding factor. While we all love a bargain, and most of us are more mindful than ever about our budgets, choosing a contractor based solely on the bottom line is almost always a bad idea. An exceptionally low price should be a red flag that a contractor may be forgetting an important aspect of your project or just low-balling you to get his or her foot in the door. The old adage remains true today – if something sounds too good to be true, it usually is.
Don't vet your contractor.Most homeowners have hectic schedules, but it doesn't take too much time to conduct a simple background check. Check with organizations like the Better Business Bureau and the National Association of the Remodeling Industry to make sure that the contractor you are considering is legitimate. Ask the contractor if they have references, and then take the extra time to follow up with a few phone calls to determine what those prior clients thought about their experience.
Cut corners. Let's face it, if a contractor is willing to cut corners by ignoring necessities like building permits, the odds are he willscrimp in other places as well – like the quality of materials he is using, the competence and experience of workers he hires, and the care and time he will dedicate to your project.
Select someone you don't like. A renovation is often a long-term project that many people who have gone through compare to a marriage. Throughout the course of your project, both parties may see each other at their best – and at their worst. Make sure you choose a contractor whose personality and attitude gel with your own; that way, when the inevitable unforeseen circumstance comes along, you'll be dealing with someone you can work through those unforeseen challenges with.
Ignore your intuition. If something just doesn't feel right to you – whether it's a contractor who downplays your concerns, ignores your input, talks down to you or anything else – go with your instincts and find someone else. After all, this ultimately is your home and your project; you deserve to work with someone who will care for it – and your family's peace of mind – as much as you do.