With the remodeling challenges of older homes, you may have to look behind the walls, before picking out paint colors.
Most people undertake remodeling projects because they dream of how wonderful their home will look when it's completed. Perhaps they envision a gourmet kitchen with room for the entire extended family. Maybe it's a spa-like master bath reminiscent of a tropical destination. No matter what they envision, it's safe to say they're probably not picturing structural support as the heart of their project.
Unfortunately, particularly in older homes that have not been well maintained or that have been shoddily repaired by previous owners, the structure behind the walls may need more attention than the aesthetics.
Take one home we recently had the privilege of working on. This beautiful 4,500-square-foot residence on an idyllic lakefront setting was a foreclosure property that looked as if it just needed cosmetic renovations. The initial home inspection indicated the house was in solid overall shape. Upon closer review, that turned out to be anything but the case. When we first saw the home, we saw indications of severe water damage. At ground level, water was pooling from a concrete patio that was slanted toward the house. This led to water seeping under the foundation and to moisture build up in the crawl space. On the main level, when we removed glass doors and the main deck, we discovered that 60' of band sill was rotted out and needed to be replaced. In fact, the interior wood was so rotted that when we removed the carpet in an adjoining room, a hammer and screwdriver could go right through the floor. If left unmitigated, the back of the house would have settled and eventually collapsed. A second-floor exterior walk-out balcony was rotted and unsafe as it was placed at the same elevation as sliding glass access doors, which allowed water to seep into the walls and subfloor.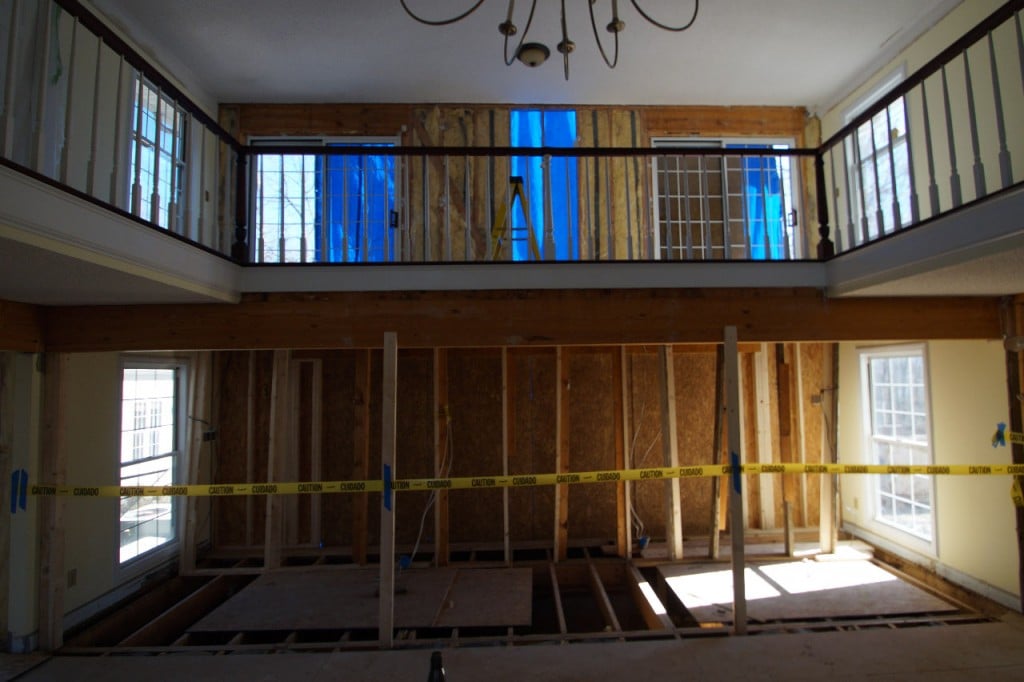 Once the extent of the damage was revealed, we told the homeowners that our first priority should be getting the house structurally sound and healthy for them to live in, then the focus could shift to making it aesthetically beautiful. To accomplish this goal within the constraints of their budget, we worked with the couple for several months to plan – prioritizing the needed projects and planning to phase in others they desired over time.
While most projects will never encounter this level of unsuspected structural damage, it's common for challenges to surface in remodeling projects – particularly with older homes. Correcting these issues, whether they involve electrical, plumbing, HVAC, mold, pests like termites, or code lapses, can take an unexpected chunk out of your budget. If you are working with a qualified, professional remodeler who advocates establishing a solid contingency fund, these issues may never impact your budget. However, if the challenges are substantial enough, they might.
As a homeowner, the best thing you can do if this happens is to take a step back and realize that structure should always come first. For example, you would never install a beautiful new granite countertop over rotted cabinets that couldn't support its weight. While your counter may look wonderful for a few weeks or months, it's only a matter of time before the structure beneath it fails. Likewise, you shouldn't install new tile over a water damaged bathroom wall or floor, new appliances or lighting fixtures on nearly overloaded electrical circuits, or new windows without replacing damaged framing.
To effectively address these issues, work with your contractor to prioritize needs. A qualified contractor should be able to identify key issues that need to be addressed, offer options to get you what you desire while working within your budget, and to help you determine what you can afford to do immediately and what may have to wait. What's more, they can help you decide which projects are cost-effective to phase-in over time and which might cost just a bit more to do now, but would cost much more to complete later. With a little planning, you can salvage your remodeling project when structural issues arise and have a home that is safe – and beautiful!