Some of the most creative additions result when homeowners consider exterior additions.
When most folks picture additions, they might think of adding on a gracious main level master suite or tapping into unused attic space. Yet some of the most creative additions we've been involved with result when homeowners quite literally think outside the box and consider exterior additions. Whether these are dramatic outdoor living spaces, functional sunrooms or spacious screened porches, creating indoor/outdoor living areas is an inventive way to "find" space your home might be lacking.
Screened porches can be one of the most economical exterior addition options – often because the floor (and possibly even the roof) is already in place in the form of an existing deck (or covered porch). In these cases, it's often a matter of ensuring that the structure is sound and can support the additional weight load, and then building walls to support the screens and making any necessary adjustments to the roofline. The result is a beautiful space that is sheltered from the heat of the sun and the worst of the elements. Finish it with some comfortable seating, a table for dining al fresco, a bar area for entertaining, or even a desk for catching up on work (although the view might hinder that plan!).
Sunrooms, on the other hand, take the concept of a screened porch to the next level. These spaces have all the advantage of screened porches plus one major asset: They can be effectively heated or cooled, making them a truly year-round living area (that also increases your home's square footage). Since sunrooms offer complete protection from the elements, you can also use furnishings and accessories that would not survive outside (such as be traditional upholstery or delicate objects that wind and weather would be likely to harm).
Sunrooms also can be a true extension of your indoor living space by opening up to your interior to provide additional gathering areas for entertaining or for everyday use. We've seen customers use these as living spaces, breakfast rooms, home offices, children's playrooms, hobby rooms, man caves and more. Sunrooms bring so much extra value and function to the home; your imagination is really the only limit.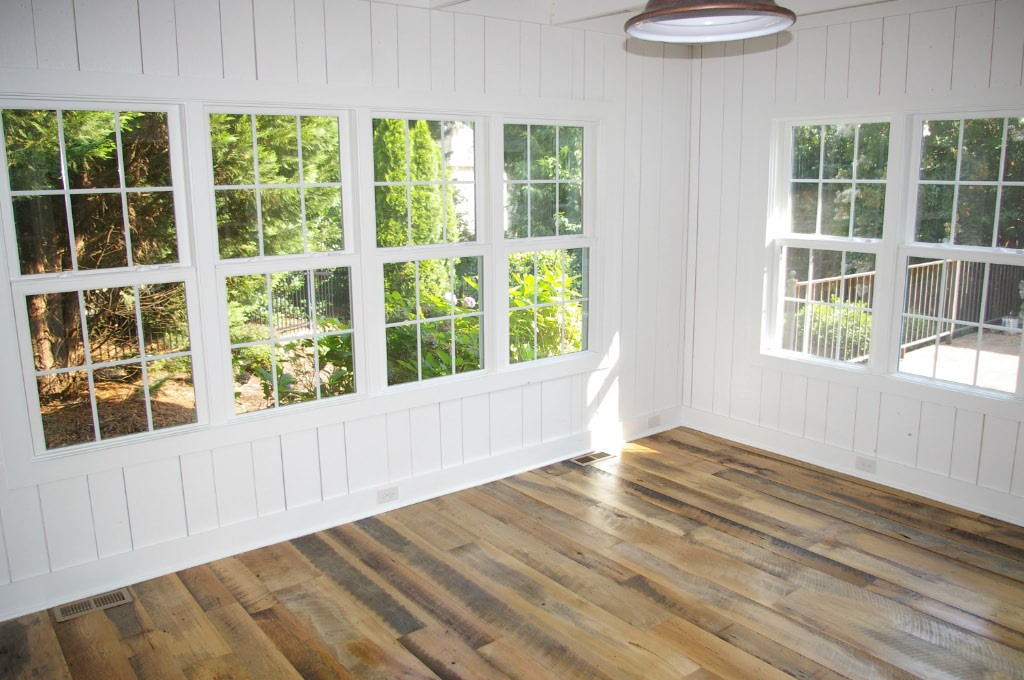 For truly limitless options (other than your property line) consider the blank canvas that is your backyard. Creating an outdoor living area can turn an unused or underused space into your family's favorite hangout. What makes a great outdoor living space – and when is it technically an addition?
While an outdoor living room won't add actual square footage to your home, it can add virtual living space. A paver patio, covered deck area or tucked away seating area surrounded by trellises can feel like an outdoor room if you create it properly. You'll want to include some type of roofing or covering – even if it's an open trellis – to provide a sense of structure. That space doesn't have to be closed in, however. In fact, open spaces that naturally flow from one area to the next – like a pool deck that flows into a seating area that leads to an outdoor kitchen that's connected by a pathway to your back deck – can turn what might be a small yard into one that looks, feels and lives large. You'll want to include seating areas where friends and family can gather. Some type of brick, paver or decking option is advisable to get you up off the ground and make the space usable during our spring downpours.
Speaking of the elements, don't forget to offer some relief from them. That might take the form of ceiling fans above outdoor seating areas near kitchens or under porches. Fireplaces and fire pits can take the chill off fall or winter evenings, while portable space heaters can provide the warmth you need without taking up space when you don't need them.
While many folks think of pools – and we think they're fabulous! – you might want to consider a hot tub in a smaller space. If you're not into swimming or soaking, a water fountain or other water feature that adds movement and helps mask road or neighbor noise is always an attractive addition.
Finally, don't neglect lighting. While outdoor living spaces are fun during the day, they really shine at night! Add direct lighting near conversation and task areas (like kitchens) and indirect lighting for paths and walkways.
With just a little creativity, your exterior addition might end up being your new favorite space in your home!