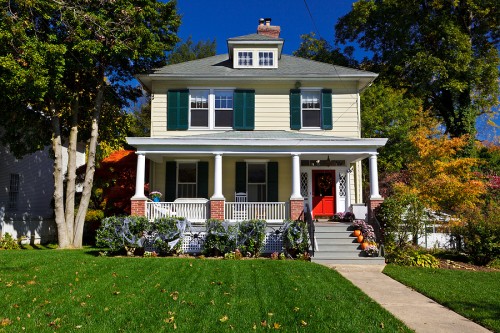 Let's be honest. We all look – and subsequently, feel – much better after a makeover. Whether it's a cut and color or a seasonal wardrobe upgrade, it often doesn't take much of an investment of time or money to make us feel more attractive. Oftentimes, that same philosophy holds true when it comes to your home's exterior, where a few simple cosmetic changes can add up to a dramatic difference in appearance – not to mention value!
The key is working with a qualified, professional contractor who can recommend cost-effective and cohesive changes that will deliver the most impact for your investment and make sense for your home and it's architectural style. Here are a few of our favorite fall fix-ups. (While some of these are great projects for do-it-yourselfers to tackle on their own, others require professional assistance.)
Get a new coat.  Whether you're repainting the entire exterior, refreshing a limited amount of trim or just brightening up the front door, a fresh coat of paint will give your home a polished and renewed appearance.
Go out on a limb. Autumn is the ideal time to reassess your landscaping and to plant shrubs and trees, because their delicate roots are most likely to gain a strong foothold during this temperate time of year. To best assess your needs, literally take a step back from your property (by walking across the street) to see where some splashes of fall color (annuals or perennials) or some structure (shrubs and trees) may be needed.
Brighten your outlook. Upgrading your exterior lighting is an inexpensive way to add style while creating an inviting ambiance. Among the choices to consider: new exterior lights that complement your home's façade, landscape lighting that highlights those new plantings you just did, and security lighting that makes your home a safer place.
Go green. Replacing aging woodwork, decking and trim pieces with new, durable and maintenance-free products can improve your home's appearance and save you time by reducing seasonal upkeep.
Lay the groundwork. First impressions speak volumes, which can be difficult to remember if, like most of us, your home's most frequently used entrance is the garage door. Improvements to a front entrance can be as extensive as adding or enlarging a front porch to create a gathering area (see number 7 below), or as simple as laying new pavers to create an inviting path from the street to your front door.
Take a rock solid approach. Several of the most popular changes we see here in the Carolinas include enhancing your home's front façade with accents like stone columns and stone facing, adding more elaborate trim that's in keeping with your home's architectural style, and including stylistically appropriate architectural accents such as shutters, door sidelights, or bead-board exterior ceilings.
Be the life of the party. People used to gather on neighbors' front porches all the time. The way our homes are built today (on cul-de-sacs set back from the road) no doubt plays a role in our homes' seclusion. Yet we believe that if you build a place where family, friends and neighbors feel encouraged to linger, they will make the effort to do so. Expanding a small front porch or adding a new one can turn an unused front yard into the neighborhood gathering place. Some items to include: comfortable seating along with ample banister space or side tables to accommodate drinks, snacks and games; adequate lighting (so the party can continue after dark); ceiling fans to help regulate temperature; outdoor speakers; and plentiful electrical outlets to accommodate everything from holiday lights and televisions to the latest and greatest toys for kids and grown ups.