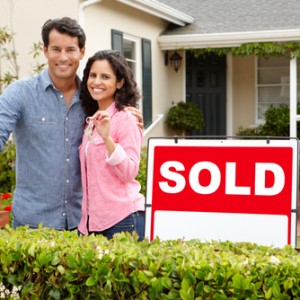 You've finally found a home for sale in that neighborhood you've always wanted to live in. It's close to your job, your children's schools, your church and all of your favorite haunts.  When you walk through the house, however, you just don't feel at home. Perhaps the kitchen is too small, the floor plan is too boxy, or you just need more space. Should you walk right back out? We always recommend that before you back away from a house that is close to what you want, you consult a qualified professional remodeler whom you trust. Here's a prime example: one of our clients recently found a nice house in her dream neighborhood, but the main level was boxy, with a living area that was isolated from the family room. When she brought us in to look at it, we were able to suggest removing a wall to open up the space. We also noticed that moisture damage in the walls was far worse than her home inspector had indicated.  As a result, she was able to leverage that information to get a better price on the home and to make the improvements that she desired. Here are just a few areas that a qualified professional remodeler can address as you are considering buying a home:
Boxy floor plans. If the home you are looking at is several decades old, there's a good chance it has separate living, dining and family rooms. A professional can tell you if it's practical to open up the space.
Small kitchens. Kitchens today are a lot more spacious and practically laid out than kitchens from just a few years ago. A qualified professional remodeler often can "borrow" space from adjoining areas and help you envision the room's potential.
Lack of storage.  Finding unused space under staircases, in utility rooms, in garages and more is another area where experienced remodelers excel.
Attic additions. Things may be looking up – literally – when you have a professional remodeler consider an addition. Underutilized attic space and areas above the garage are prime spaces to tap into.
Blasé baths. Baths outdated? Need a bigger, better shower? How about future-proofing with grab bars and zero-entry showers? These and many more options are possible; a remodeler can tell you if the cost vs. value makes them practical in the home you are considering.
Sunrooms, screened porches, and outdoor living areas. We are blessed to live in a climate where we can look outdoors when we are searching for more living space. A professional can help you see your options.
Exterior facelifts. Love the house, but hate the exterior? From altering the cladding to adding stone or brick accents, a professional can change your home's appearance in myriad ways.
A second opinion. Finally, a qualified professional remodeler who is experienced in home repairs might be able to see issues that a home inspector missed or to pinpoint challenges and opportunities that untrained eyes may not see.